Our story, our craftsmanship
BOSABO is a brand with true family heritage
A family business
From the very first wooden clogs through to leather sandals sparkling with sequins, this is primarily a story of expertise which remains truly unique in France. The Audouin family has been committed to this venture for five generations. It is also the story of a shoe which has constantly evolved in an elegant fusion of the traditional and modern.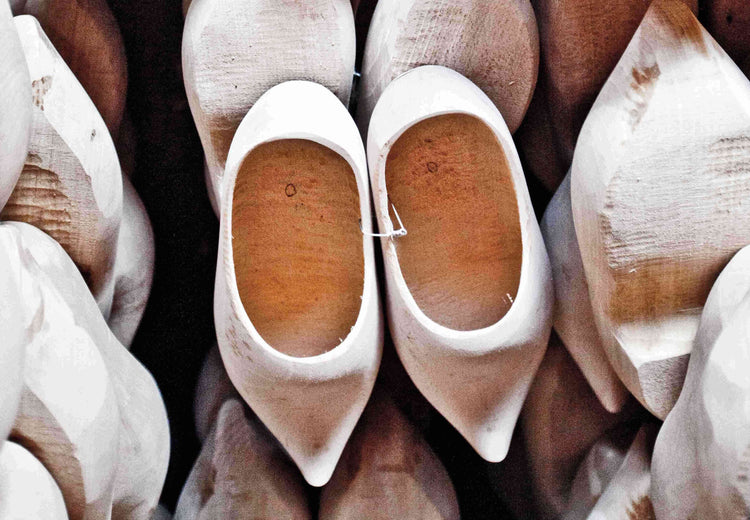 From farm to farm
In 1890, great-grandfather Emile would criss-cross the tracks around the Mauges region of France, carrying his bag on his back. He traveled from farm to farm. Armed with his cleaver, gimlets and carving gouges, he shaped, hollowed and polished until the contours of the indispensable clog emerged from the freshly fallen tree. This intricate work called for dexterity and patience. He would only return home once the entire family was fitted with clogs, two or three days later!
His son Joseph took over the manufacturing reins by settling down in Saint-Remy-en-Mauges. This heralded the end of home-produced clogs. With the mechanisation of the 1920s, the first lathes and borers made their way into workshops, making a clog-maker's work somewhat sedentary.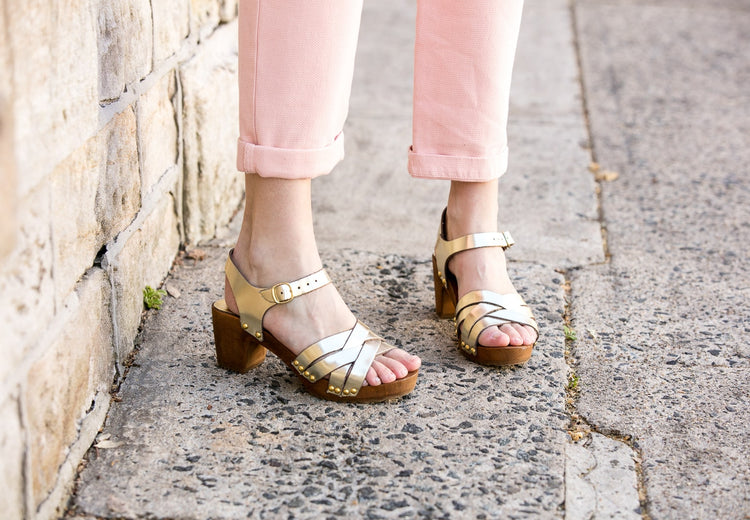 Wood & Leather
A few decades later, in 1959, his son of the same name began a new chapter in the family history by opening a workshop in Montigné-sur-Moine, on the edge of the vineyards around Nantes. Joseph began to diversify by producing wooden ornaments and furniture. More importantly, he updated the look of the clog by adding a leather upper to the traditional wooden sole, similar to Swedish clogs. These were his first steps into the world of fashion.
Continuing in this vein, his son Joël took over the company with his wife Françoise in 1988. He launched the Bosabo range of designer styles, alongside the more traditional Safty Sabot brand of workwear clogs which are particularly popular in the medical sector as well as for gardening.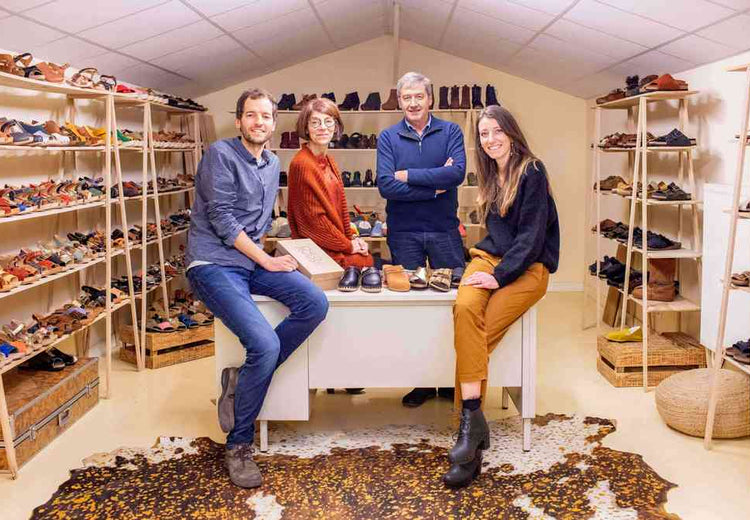 BOSABO today
In the early 1990s, the company began to exhibit at international trade fairs to expand the fashionable side of the range. With patent red leather, imitation leopard skin and high heels, their clogs featured a wide range of styles and materials in increasingly eclectic designs. Over 150 designs are manufactured in our Nantes workshops. This diversity combined with constant updating ensures this time-honored shoe remains popular all over the world. From New York to Tokyo, not forgetting London, Paris and Milan, more than half are now exported to grace the most prestigious window displays.
Today BOSABO is proud to preserve and promote the age-old craft of clog making that is all but lost elsewhere in France. And Joel and Francoise are keen to pass on their passion for the art of clog making and the importance of respecting the environment to their children – Alexis and Justine – both of whom are already working with their parents in order to preserve and promote the company's heritage well into the future.
Ethical production with family values
Natural styling teamed with an ethical approach. This is the key to our approach, not only in terms of the choice of materials, but also regarding our production concepts where respect and trust go hand-in-hand with independence and responsibility.
Ecology at the heart of our production
The wood we use to produce our soles comes from the state forests of the Pays-de-la-Loire or southern Brittany. We buy it exclusively from certified forest. Committed to sustainable development, this certification helps ensure forests are renewed and maintained. Trees are only felled when mature, and a new tree is planted for each one cut down. We also recycle all our wood waste, using it to feed the boiler that heats the workshop and dries the soles.

The premium quality leathers come from carefully selected skins. To reduce transport impacts on energy, we only work with European tanneries from bordering countries (Italy, Spain), or with French tanneries wherever possible. Most of our leathers are vegetable-dyed and chrome-free, ensuring they retain their natural appearance, reducing the risk of allergies and limiting the use of chemical products.

Lasting. At the end of the production cycle, we use a traditional drying process to avoid using an ageing oven which would consume high levels of energy.

The outsoles are made from rubber or expanded rubber, making them lightweight, flexible and durable with excellent grip. The raw material is locally sourced (50 km from our atelier). For our cork sole range, we have now developed with our supplier specific outsole where they add cork with the rubber to reduce our environmental footprint.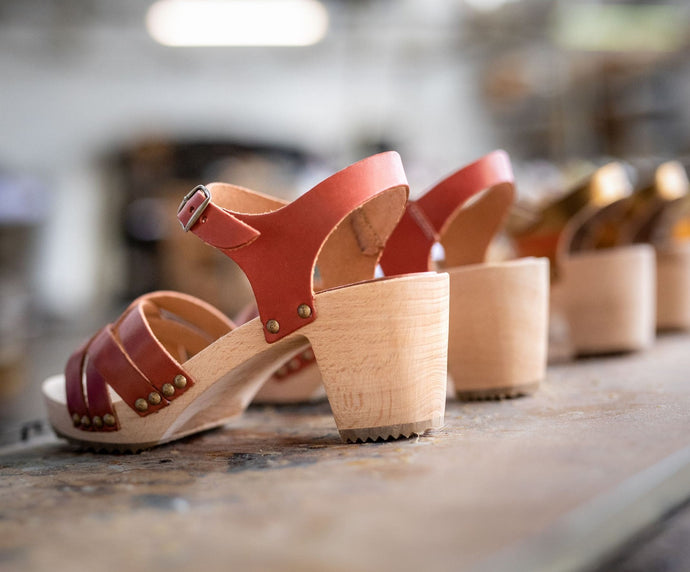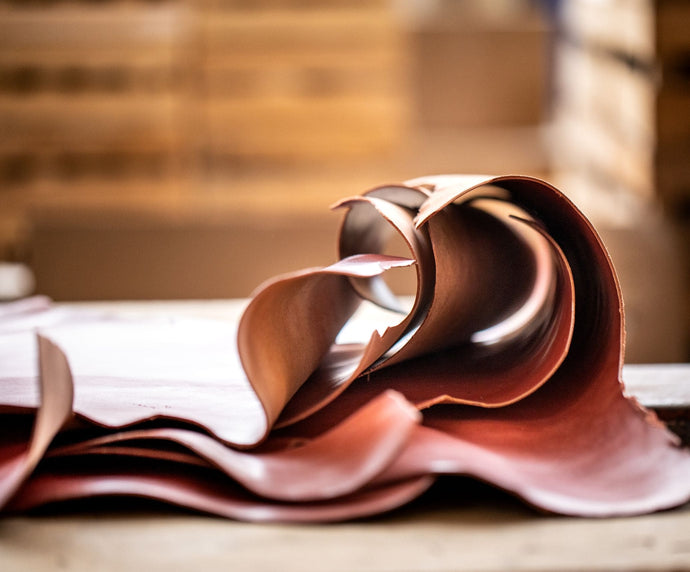 "This style of organisation means the work is varied and non-repetitive, so that each person is responsive and personally responsible for each task."
Local craftsman production
Entirely designed, developed and produced in our workshop in Montigné-sur-Moine in western France, our Bosabo range combines traditional workmanship with a desire to support local expertise.
Loyal to our craftsman approach, we aim to retain the family feel where trust is a key value.
Our production chain is arranged around various islands within the workshop. Each of our qualified employees works independently on all the operations specific to their role: sawing the wood, making soles, cutting the leather, preparing for stitching, stitching and assembling (attaching the leather to the sole).
This is how we guarantee high quality products, day after day.
You want more information, discover our 8 commitments here.